These days your website is more often than not, the first touch point a potential client has with your business. I cannot stress how important website optimization is to the success of your business.
Platforms such as WordPress, Wix and Squarespace make creating your own website a breeze, but some of the things we speak about in regards to Website Optimization and Search Engine Optimization will go beyond the abilities of anyone who is not a web designer. I would highly recommend finding a good web designer so you can get the most out of your websites.
Have you ever walked into a business for the first time, only to be greeted by an unhappy, unpleasant receptionist or front desk staff member? Based on first impressions, how did that make you feel about the business? You were physically there so chances are you didn't turn around and walk out (unless they were really unpleasant). In the digital world if you jump on a website and have a terrible experience with it, chances are it all becomes too hard so you head back to the Google results and choose the next option in the list. If you are paying attention to your website analytics and you can see trends of very low time on site and high bounce rates, chances are your website is not user friendly and it is driving potential clients away.
When putting our websites together, we need to keep the user experience front of mind. A good user experience is
It all starts with the architecture of your website. This needs to be planned and thought out. We've spoken about the buyer's journey (if you missed it, check it out here – http://moss-media.com.au/buyers-journey/) and I want you to keep this in mind when designing the architecture of your website.
The Buyers Journey
Awareness > Information and education around your products and services should be easy to find and easy to read
Interest > Blogs, product pages, customer reviews should be present, easy to find and structured in a way that they will lead a client into the consideration stage
Consideration > Social links and about pages with informative content make is easy for customers to learn about and connect with your business.
Conversion > As mentioned above, a well-designed site will provide conversion opportunities throughout the site, not just on the store page. Think about having buttons throughout your info pages and blog posts that take customers straight to the buying page of that product or service. Make it as easy as possible for clients to convert.
Retention > Once again social links here are important, mailing list opportunities to collect client information and review opportunities allow clients to connect and emotionally invest with your business, bringing them back to you time and time again.
Once our architecture is planned correctly to create a logical flow through the website we need to make sure our website is responsive to the devices it will be displayed on. What this means is that your website will recognize if it is being looked at on a desktop display, tablet or phone and it will automatically adjust how it displays to suit. It sounds complicated, but WordPress, Squarespace and all other popular website design platforms will be able to show you examples of how your site will look on each display type.
Mobile Friendliness & Page Speed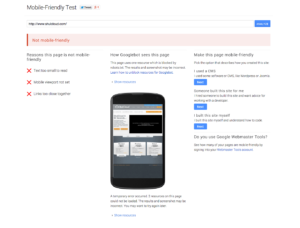 Back in 2015 Google implemented a new element to their algorithm which places websites deemed "mobile friendly" above websites that are not mobile friendly. This means your search engine optimization could be as good as it possibly could be, but if your site is not responsive to mobile displays, you will show up on page 2 or 3 of search results. Have you ever searched on Google on your phone and gone to a web link only to see the smallest page you've ever seen displayed on your phone, you can't read the text, you have to zoom in and when you do you can only see a portion of the page at a time? This is web-page that is not responsive and chances are, when you were on it you got off it really quick because it was a terrible experience.
If you are unsure, its really easy to find out;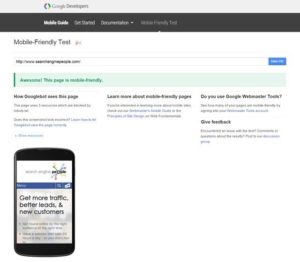 https://search.google.com/test/mobile-friendly
Google provide fantastic free tools. Jump on the above link, put your webpage URL in and you will get an instant report on if your page is mobile friendly and if there are any particular page loading issues.
From here, the next thing you want to look at is how fast your page loads. Some of the information you might see out there states that if a page does not load within 3 seconds, most users will give up and move on. That's right, 3 seconds. Once again, Google provide a fantastic tool to measure this;
https://developers.google.com/speed/pagespeed/insights/
Once again, all you have to do is input your webpage URL and Google will give you an in depth report on how fast your page loads on mobile and desktop. The report will provide optimization suggestions to help you speed your page up for a better user experience. Once again, now is when it is great to have a web designer you can turn as this report will make complete sense to them and they will be able to help you implement the changes you need to optimize your website.
Keep in mind everything we have just covered have an affect on where you will show up in Googles results.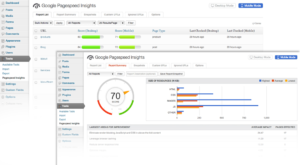 We have only scratched the surface with the basics here, have a look back at your website set up, ask some friends for some honest constructive feedback on how they think your website is to use and navigate, ask them what they don't like about it. Our friends will always want to tell us what is good because they are our friends, but the most valuable feedback can be what they don't like.
Jump on the mobile friendly test site above and the page speed test site, run the tests, get the reports to your web designer and see what you can do to improve your ratings. This will all help you start getting better results in Google.
0