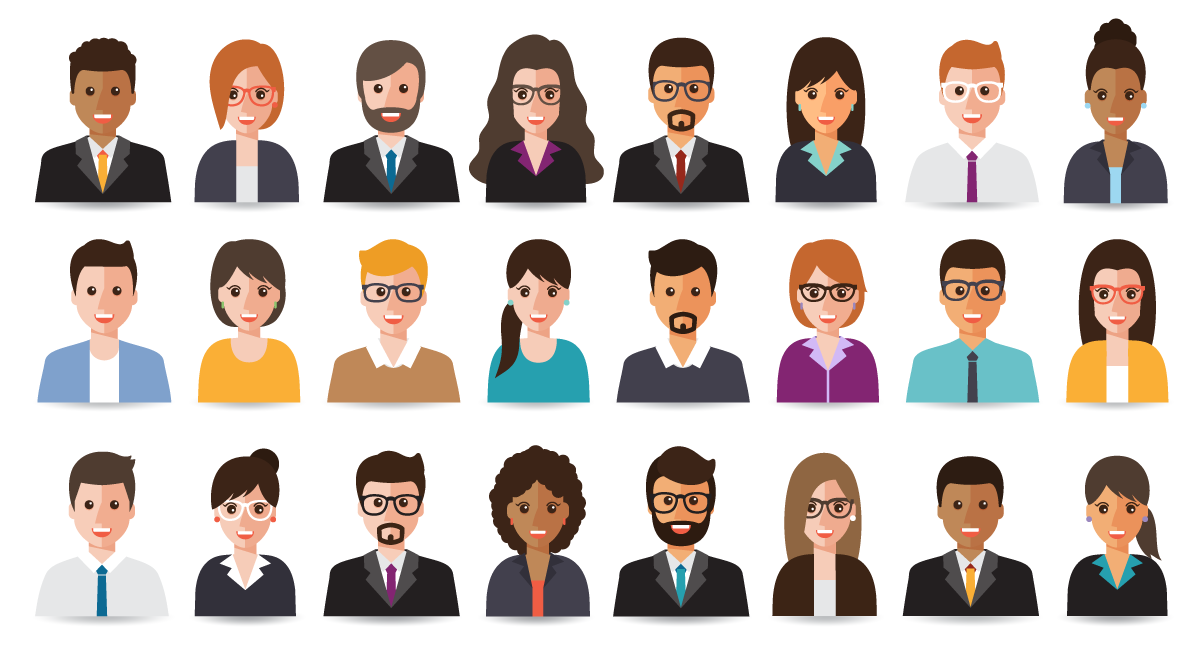 What does your ideal client look like? Can you describe them in detail? I mean REAL detail. This is what buyer personas are and they are extremely important to your digital marketing.
Let's take a quick step back in time, you may have heard me say this before, but the messages we would send out through the traditional mediums (TV, Print, Radio) more often than not were very broad to try grabbing a little bit of interest in as many people as we could. It was hard to be very specific and targeted because we were paying such a high price and the message was going to be viewed by thousands and thousands of people, which was always part of the attraction. Where digital really differs is we want to look at our message as if it is a one on one conversation with our target client, this means the more specific we can be, the more cut through we can have. Conversion rates in the digital age are astronomically higher than the traditional age because we can be so target and costs of digital are fractional compared to the traditional age.
The major game changer that has come along with digital is the ability to "BUY NOW". We can see an advertisement in email, on Facebook, on Instagram, on google and can hit a link and be taken straight to where we can purchase right then and there on the same device we saw the ad on and have it delivered right to our door. Traditional marketing did not have that level of convenience and instantaneous gratification. There is no buy now button on the TV, we have to remember a phone number or google a business before we can find out where we can buy and with our modern attention spans, that level of complexity loses us.
To tie this all back in to the Buyer Personas, for digital to have the level of cut through and conversion rate it is possible of, we can't use the same messages we have always used in the traditional age. Specificity is key. For us to be able to use the language and word structure our clients will respond to, we need to know who they are. I mean really know who they are. Age bracket, gender, location is not enough.
Here's what I want you to do. On a piece of paper, I want you to think about your PERFECT client, the client that if you had a thousand carbon copies of this one client you would be the happiest business owner in the world. Because if a client book full of this client would make you that happy, lets find more of this client right?! Here's my list;
Age (Actual age, not age bracket)
Gender
Where do they live
Occupation (what do they lover and hate about their job)
How much do they earn?
What are their needs/problems?
How can you help them fill these needs and solve these problems?
What are their personality traits? (Introverted? Judgemental? Emotional? Etc)
What social networks do they use?
What devices do they use? (Iphone/Android/tablet/laptop/desktop)
What food do they like/dietary requirements? (Vegetarian/celiac etc)
Hobbies (List them)
What are their political views?
Do they have a family? (if so how many kids?)
What are their life goals?
What are their career goals?
What are their worries and fears?
What music do they like?
What TV shows/movies do they like?
What is their name? (Yes, give your persona an actual name, this will humanize them even more)

Now I know what you are thinking, my business has nothing to do with food or music or movies so why would I need any of this? We need to know all this and as much as we can because we want to know our Buyer Personas as if they are our best friends. The more you know about them, the better you know how to talk to them. Think about a first date with someone vs the 20th date with the same person. On the first date you have no idea what their interests are or what they like, you fumble through looking for common ground to connect on. By the 20th date you know how they talk, you know how they have their coffee, you know what their favourite band is and you can talk to them on their level. By knowing our buyer personas in detail, we can create content that will make them feel like it has been created specifically for them, because it has been, this will create stronger cut through and higher conversions.
Now that you have filled this out, find a picture on the internet, just google portrait images, find a picture of a person you think fits your newly filled out persona, print it stick it to the persona and put it up on your wall or your whiteboard. Whenever you are writing copy for ads or creating content, look at this persona and think, am I creating this content for my buyer persona? Would this person find value in what I am creating right now?
Let me guess, you're also thinking if you've created a buyer persona for a 29 year old female that you now need to go make one for a 28, 27, 26 year old female as well and then you need to make 7 personas for males. No. I'd say you don't need to create any more than 4 max. Keep in mind that we are trying to attract your IDEAL clients here, not the pain in the ass clients, you're better off without those ones.
After you have written you first persona, do it again with a distinctly different persona, it might be a male instead of a female, or it might be someone 10 years older than the first, but make sure you're still following the premise of ideal clientele. By the 2nd or 3rd persona you have written, you'll find that you've pretty much covered it. You'll think of another persona but it will be pretty similar to one you've already written and the language you use for you ideal 29-year-old female client is going to be pretty much the same for your ideal 27-year-old female client. Does this make sense? Hit me with a comment or message if something here doesn't make sense.
Writing your buyer personas is a really simple exercise and they can be an ever-evolving element of your marketing plan, write a couple today, in two weeks' time you might tweak them a little bit, but get them up on the wall and start tailoring your messaging towards them! Specificity is key!
0